​Finally we did it! Our big anniversary dinner took place last Thursday in Herrngarten Café. Now having had the weekend to rest and reminisce, we can only say it was a splendid way to end our 10th anniversary year. More than 60 people celebrated with us this important day in our company history. Looking back at 11 years of successful business, Alex Baumgartner highlighted in his welcome speech some of the major milestones of this era, describing his feeling of signing the documents of incorporation, starting as a one-man-company and growing over the years to being now a company with 24 people in various European countries, gaining new important customers along the way and today not only offering consulting, but also software engineering services and software products.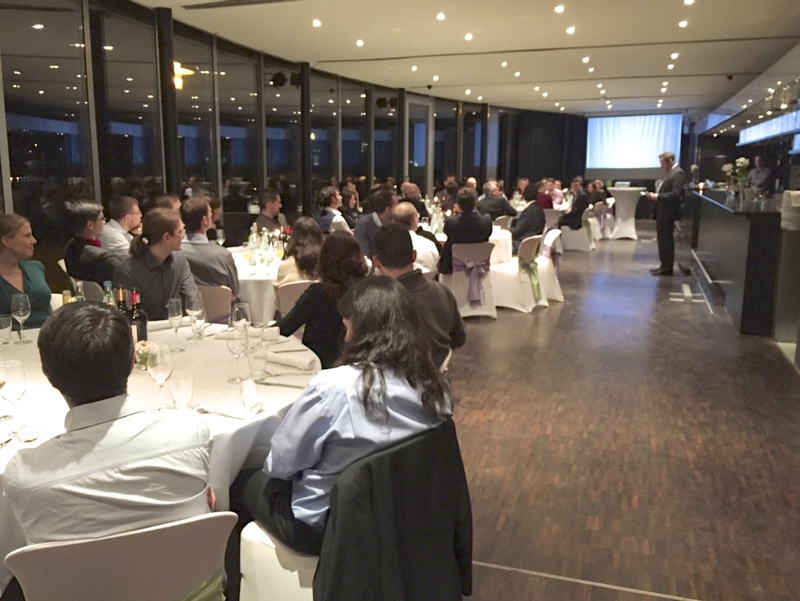 Having now grown into new fields, we wanted to communicate our change also in terms of appearance and took our party as the occasion to introduce a new, fresh and modern Solenix corporate identity. After showing a short video about how difficult it is to create new looks, Alex revealed our new logo to the approval and applause of all our guests.
Following this all the guests enjoyed a wonderful buffet with Swiss specialities such as Capuns, Älplermakronen and Mousse au Toblerone, which alone already was worth breaking any diet.
We did not only want to offer our guests good food and drinks, though, so we thought we give them a little inside into some special facts and figures about Solenix by holding a quiz to see what was already common knowledge. With a lot of laughter and heated discussions our guests debated the ratio of boys to girls among Solenix children, how many nationalities are represented in Solenix staff and which is the most used language at Solenix (and no…it is not Java)! In the end it was a close call among four groups who really surprised us with their deep insight into Solenix company facts and the winners were rewarded with a nice prize.
After the official part of the party was over, a lot of guests stayed to continue celebrating with us, savouring some drinks and smoking a cigar in the cigar lounge that was set up especially for this occasion.
We would like thank all of our guests one more time for making this evening an unforgettable memory that will always be a highlight in our company history. A special thank you goes out to the staff at Herrngartencafé for the perfect realisation of our wishes and ideas.