Solenix is supporting the European Space Agency (ESA) in monitoring some of the effects of the Coronavirus pandemic. As part of their responsibilities in the Engineering Support Team of ESA's Data Application and Phi-lab divisions, our colleagues Sara Aparício and Itziar Alonso have contributed to the development of the RACE dashboard. RACE, Rapid Action COVID-19 Earth Observation, is a joint initiative between ESA and the European Commission, publicly released on 05 June 2020, that aims at monitoring societal and economic changes due to the crisis. Through a series of indicators users can find information about economic (industrial production, transport), agricultural (production, activity) and environmental activities (air and water quality, emissions).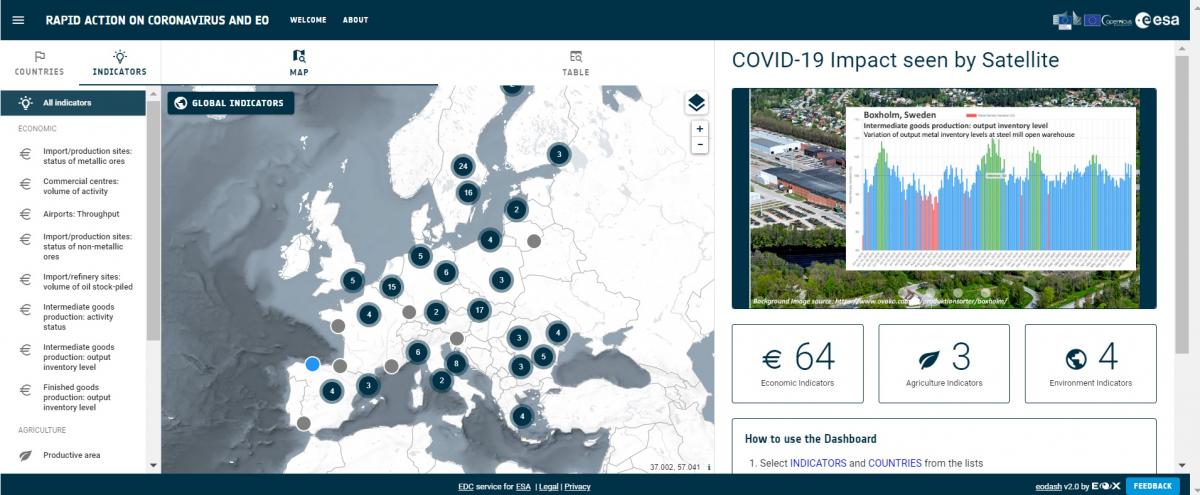 Overview of the Rapid Action on coronavirus and EO dashboard
In particular, our colleagues have been monitoring the activity in parking lots of supermarkets, ports and industrial areas, as well as cargo activity, and comparing their status in April 2019 with the timeframe from February to May 2020.
For this task they have made use of European Union's Copernicus Sentinels EO imagery and very high-resolution imagery from Pleiades and Planet, as well as other Earth Observation capabilities such as the Euro Data Cube and the Sentinel Hub. The first results show a considerable difference in influx to supermarkets' parking lots, as can be seen in the figure below. Some medium-sized shopping areas had a considerable decrease (in some cases over 50%) in physical customers, whereas large-sized, although not as acute, also suggest a considerable decrease in the number of cars. On the other hand, imagery acquired over main ports suggest that ship traffic has not been significantly impacted, although results are still preliminary.
The monitoring and provision of indicators for the RACE dashboard will continue until the end of the year. You can find the RACE dashboard here and a guest article on this topic by our colleague Sara Aparício here.


Athens Lidl Supermarket: 52% decrease of physical customers. Pleiades data processed by Euro Data Cube.
Visualisation of Supermarket Activity Indicators